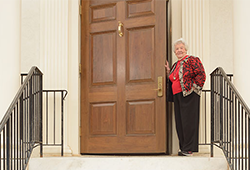 L.B. and Virginia Edwards Hester Merit Scholarship
Virginia Edwards Hester (1918-2018) came to Woman's College in 1935 from the small town of Marshville in Union County, North Carolina. She arrived along with seven classmates from her high school, and has many fond memories of being a student.
"How happy we all were to be in college," she recalled. "It was a good, good experience."
She relished the campus newspaper and literary magazine, formal and informal dances and musical programs, plays and speakers in what is now UNCG Auditorium. She lived in Gray Dormitory as a freshman, and in the upper-class dorms in the years that followed. She remembers sitting on the porch swings at the dorms that stood between the quadrangle and the dining halls.
In the basement of the Alumni House, which was brand new at that time, she worked on the Pine Needles yearbook during her senior year. And she remembers Woman's College's academic rigor.
"I guess you'd say we learned about the world around us, and we always had outstanding professors," she said.
Mrs. Hester graduated from Woman's College in 1939 with a degree in home economics. She later received her teacher certification in science from UNC Chapel Hill and a certification in diversified occupations education from NC State University. She became a teacher of home economics at Jonesboro High School, and later the Coordinator of Diversified Occupations at Sanford High School. Her husband L.B., whom she met in Sanford, was a UNC Chapel Hill basketball scholarship recipient who also attended the Eastman School of Business and became an auctioneer, horse breeder and cattle farmer.
Mrs. Hester has been a member of the Medical Foundation of North Carolina, the UNCG Alumni Board, the Alumni Scholarship Selection Committee and the Reynolds Scholarship Selection Committee. She credits her giving nature partly to her time spent at Woman's College.
"I always felt as students of Woman's College we were supposed to be influential everywhere we went and a part of the community—an integral part, and I have tried," she said.
In the mid-90s, she and her husband made an unusual and exquisite donation to UNCG—a new door for the Alumni House. The heavy door, made from 40-year old walnut lumber that that was stored on the couple's farm, has been well cared for and is still in use. The architectural treasure calls to mind their generosity and links the UNCG present to the past.
In 2004, Mrs. Hester established the L.B. and Virginia Edwards Hester Merit Scholarship. Her gift will ensure that another talented young person can attend college, and experience a vibrant campus community just as Mrs. Hester did in the 1930s.
"If I could do it over again, I'd go back," she said. "UNCG is a wonderful school and a great place to experience education.