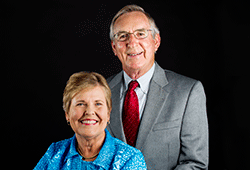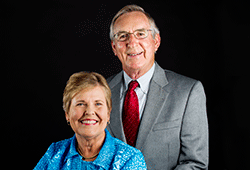 Gayle Hicks Fripp '63 and her husband, Terry
"I realized all through my working career how much I owed to the university because of the knowledge and skills they had given. They had given me everything I needed to be a success. In turn, I needed to give back to the university to help the students of the future. I encourage all of my reunion class to make a gift of some size and to stretch if possible. As we look back over our careers and lives, if we are honest, we have so much that we owe to what we gained at this university."
UNCG was a tradition in my family. My mother and two sisters attended, and I was happy to follow in their footsteps. The History Department at Woman's College was so strong, and Richard Bardolph, the department head, made me think about history and stories of people in a way I never had before. I had planned to go to Law School, but I became interested in teaching because of Dr. Bardolph and other professors. I returned for my master's in history, and subsequently discovered the option of becoming a museum educator, which was a wonderful way to apply my education and passions.
When I retired from my position as Assistant Director of the Greensboro Historical Museum a few years ago, I knew I wanted to find ways to give back to the university. I helped immediately in smaller ways, but I realized the Charitable Gift Annuity would enable me make a larger gift. It was appealing to me to invest more than I could give outright.
The Public History Program Fund I was able to establish through my CGA will provide high impact experiences for students, such as project expenses, conference attendance, research & travel expenses for any of these experiences. This type of gift was particularly appealing, since I was withdrawing from my retirement account and needed a gift that would provide a financial return. It was a reallocating, rather than depleting, my resources.
If you don't feel you can give a sizeable gift today, look at an annuity so that in the future it will be a significant gift to the university.