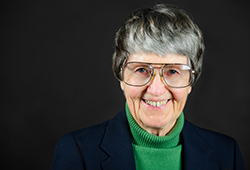 "I think [my charitable gift annuity] is a win-win. There's no question that it's mutually beneficial, and I'm one hundred percent pleased with my decision."
I grew up in Cincinnati, and for as long as I can remember, all I wanted to do was run away and join the army. I'm not sure why, as Cincinnati is a great place, but I was eager to leave and do something different.
When I was 18, I enlisted, which at the time required parental consent. At the time, not many jobs were available for women, and most enlisted women were medics, cooks, or provided clerical services. Our jobs changed all the time, though. My favorite assignment was working with the Missile Master project at Fort Meade in the late ?50s. We tracked flights on radar, watching for anything that might be out of place. It was an experimental group, as no women had ever done that type of work for the Army before.
I served for 23 years before returning to Cincinnati, and then retired to Hendersonville, NC, almost 20 years ago. I was surprised one day to receive an invitation to a luncheon discussing the Betty H. Carter Women Veterans Historical Project at UNCG. We decided to attend just for fun to see what the project was all about and have been involved ever since. It has been a pleasant association, and we've developed friendships we never would have had otherwise.
When I decided to support the program financially, the charitable gift annuity made a lot of sense. I figure if I'm going to give, I might as well do it while I can still see what's happening with the program I'm supporting! I am very pleased with my decision to give in this way.