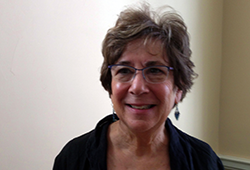 "I have been so fortunate to be in this position and consider it a real privilege to give back to a school that gave me so much."

I came to North Carolina with my family in 1960 while I was still in high school. A year later, I enrolled at the Woman's College in Greensboro. Immediately, I felt more at home in the South than I had ever experienced. My time at Woman's College was very important to me. While there I enjoyed a feeling of support and empowerment from my classmates that I believe was unique to an education at an institution of higher learning for women. That experience helped to instill within me a passion for public service and philanthropy that I have pursued throughout my life, and that Bobby and I have shared through our almost fifty years of marriage.

For Bobby and me, giving back to the university is a meaningful way for us to honor the role it has played in our lives. Naming UNCG as a beneficiary in our will was just one of the ways in which we have chosen to support the university financially. That gift, along with others, has allowed us to establish the Dylan Rose Kadis and Eloise Hall Kadis Women's Lecture Series, the Claudia and Bobby Kadis Graduate Scholarship for Studio Arts, as well as the Claudia Buchdahl Kadis Merit Scholarship. Our hope is that these gifts will help provide the same opportunities to today's students at UNCG as I enjoyed during my time there.