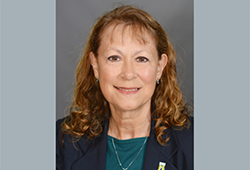 Barbara J. Wike Scholarship for Non-Traditional Students
College campuses are changing. While many students pursue higher education immediately after graduating high school, a growing number enroll later. Whether they're veterans looking to enter civilian workforces, employees breaking into new fields, or single parents pursuing educational dreams, more undergraduate students start college in their mid-twenties and later.
Non-traditional students confront unique challenges – a fact UNC Greensboro Development Officer Barbara Wike knows well. Wike – who will retire in August – didn't start her degree in business administration until 1976, when she was 23.
"I started at UNCG as a receptionist in the Undergraduate Admissions Office," she recalls. "I took advantage of the University's staff tuition waiver to take a few classes. It wasn't long before I realized I wanted a degree."
Wike became a full-time student and received several donor-supported scholarships. When she graduated in 1980, Wike embarked on a 25-year career in information technology. In 2006, she circled back to UNCG to become a Director of Planned Giving.
"Planned gifts are critical to maintaining long-term excellence," Wike explains. "I remember discussing legacy gifts with donors and drafting statements of intention with them. Now we're seeing the effects of their hopes to make a difference. It's incredible."
Wike didn't forget the importance of estate planning when she became the development officer for UNCG's School of Health and Human Sciences. In 2018, she established the Barbara J. Wike Scholarship for Non-Traditional Students in the School of Health and Human Sciences. This will bequest, designated for non-traditional students pursuing any School of Health and Human Sciences major, will create a lasting impact by supporting this growing sector of our undergraduate population.
"I know how difficult it can be to get a college degree as an adult," says Wike. "This gift will allow students to feel celebrated long after I'm no longer here to cheer them on. It also eases the future burden of my estate."
Her sons, John Paul and Joseph Dunning, support Wike's estate plans; they know how much her degree and UNCG mean to their mother – and how much she values quality education for students of all backgrounds.
Wike created an enduring legacy, one that honors the work done at our University and ensures opportunities for generations to come.