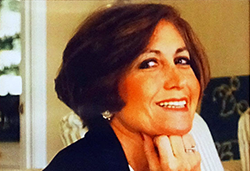 The Malester Endowment for the Pam Mars Malester Annual University Lecture
UNC Greensboro's reputation lies within the successes of its students—triumphs made while attending the University and those accomplished thereafter. Beautifully reflecting UNCG's motto of "Service," alumna Pamela Mars Malester '68 has been devoting herself to professional development, charitable causes, and her alma mater for more than 50 years.
As a college student, Pam carried out a consuming agenda. She served more than a dozen clubs, committees, councils, and organizations throughout her four years at UNCG. Pam's active schedule earned her an Outstanding Senior of the Class of 1968 award, and she was furthermore inducted into Phi Beta Kappa, Sigma Delta Pi, Phi Alpha Theta, and the Golden Chain Honor Society before graduating magna cum laude.
Pam sustained a life of leadership after completing her studies. While fulfilling several high-rank positions at the U.S. Department of Health and Human Services, from 1971-2001, Pam received the Office for Civil Rights' Director's Award (1984), the Distinguished Volunteer Service Award (1994), and the Distinguished Service Award (1995).
Adding to her honorable professional career, Pam has worked relentlessly for battered women and homelessness. She has sat, and in some cases still sits, on the Board of Directors of Action for the Homeless, the Center for Poverty Solutions, Health Care for the Homeless, the National Law Center for Homelessness and Poverty, and House of Ruth Maryland—a domestic violence center that provides shelter to abused women and children and advocates for issues regarding intimate partner violence. She is most proud of her work for the successful passage of the Battered Spouse Syndrome Bill—a law passed by the Maryland legislature allowing testimony of past abuse in criminal assault or murder trials.
In 2003, Pam was selected for the third time as a Maryland Top 100 Woman and was inducted into its "Circle of Excellence."
Amidst her many achievements, Pam has loyally supported UNCG. She and her husband have donated to multiple departments, scholarships, and buildings at the University.
In the true essence of giving, Pam and Allan Malester have allocated two testamentary gifts to UNCG. The first is an Aubusson tapestry created by artist Alexander Calder, which will be added to the Weatherspoon Art Museum's collection. The second establishes the Malester Endowment for the Pam Mars Malester Annual University Lecture: UNCG will host renowned speakers to address issues of civic leadership, community engagement, public service, politics, and humanitarianism for the enrichment of students, faculty, and the community.
"I cherish and look back with pride and fond memories of my time at UNCG," recollected Pam. "Although it has been more than 50 years since I graduated, I can still recall many details of my UNCG years: learning experiences, the faculty, developing an appreciation of commitment to community service, my extracurricular activities, and the friends I made. These memories are a constant reminder of what I owe to UNCG and my obligation to give back. By giving back, I hope current and future students will also look back on their time at UNCG with pride and as a time of achievement and joy and will support UNCG."