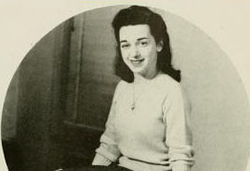 Bonnie Angelo MFA Program Endowment in the Department of Art
Bonnie Angelo (1924-2017) didn't set out to change the world. The Winston-Salem native hoped to be an artist when she transferred to Woman's College of the University of North Carolina in 1941, but a passion for journalism had already taken its hold. Angelo served as the university's yearbook editor-in-chief and in 1944, only weeks after graduating with her bachelor's degree in art, she joined the news staff of her hometown paper.
In 1953, with husband and editor Harold Rochelle Levy, Angelo joined Newsday in New York. From there, her career soared. She won a national award for her scathing coverage of Prince Edward County, Va.'s defiance of school desegregation, and led the fight for equality for women in journalism. As president of the Women's National Press Conference, Angelo ensured women had equal access to newsrooms, newsmakers, and briefings. In 1966, she joined Time magazine as a Washington correspondent assigned to the White House.
Angelo's career with Time spanned three decades. She headed the London Time office in the late '70s and early '80s, covering historic moments such as Margaret Thatcher's rise to power and Princess Diana Spencer's ascent to fame and adoration. Angelo became bureau chief of the New York office in 1985, and in 1993 was named Correspondent at Large. Angelo's tireless efforts garnered well-deserved recognition, including a Lifetime Achievement Award from the International Women's Media Foundation. She was inducted into the North Carolina Journalism Hall of Fame at UNC Chapel Hill in 1996, and into the Society for Professional Journalists Hall of Fame in Washington, D.C., in 2006.
Angelo remained loyal to her alma mater. She served on the Students First Campaign College of Arts and Sciences Committee, as well as the Advancement Council for the College of Arts and Sciences. In 2007, she established the Bonnie Angelo MFA Program Endowment in the Department of Art. Designed to help graduate students participate in unique opportunities, the fund supports several students each year as they undertake presentations, artist residencies and exhibitions.
Julia Caston '17 MFA and Sherrill Roland '17 MFA were supported by Angelo's endowed fund in Spring 2017: Caston launched her MFA exhibition at Greensboro Project Space, while Roland attended the Creative Time Summit in New York. These opportunities helped them further their own successful careers. Caston, now a staff member in the North Carolina State Museum's Education Department and an artist-in-residence at Raleigh's Artspace, encourages dialogue and exchange as an educator and an artist. Roland, committed to Creative Time Summit's mission of intersecting art and politics, opened his nationally acclaimed Jumpsuit Project. Featured in Studio Museum of Harlem's annual emerging artists exhibition, the performance piece asks viewers to question their assumptions regarding mass incarceration and the politics involved in our nation's prison system.
Angelo may not have set out to change the world, but change it she did. Her standards for excellence and equality in journalism endure, and her generosity ensures future generations of creators have the means to thrive. Described as "98 pounds of pepper from North Carolina," this tenacious journalist was determined to shine a bold spotlight on the truth, and still encourages others to do the same.