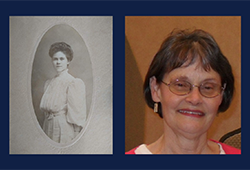 The Nettie Beverly Belvin, Class of 1905, Endowed Scholarship in Education
Before her death, Nettie Beverly Belvin, of the State Normal and Industrial College's Class of 1905 (now UNC Greensboro), shared her experiences as a college woman at the dawn of the 20th century. When she graduated, the college was still small; her graduating class of 40 women took civics classes with Dr. Charles Duncan McIver himself. In a piece she wrote for UNCG Alumni News in 1970, she recounted her life with fondness and gratitude.
After teaching in Lumberton and Durham, North Carolina, Nettie followed her brother out West, taking a position in the small mountain town of Athena, Oregon. "Sometimes it snowed every day for weeks at a time," she wrote, "but the cold was not deep and penetrating like in the South, so we didn't mind." During those snowy days, her mostly Native American students would come to school via sleigh. When she returned to North Carolina, Nettie married D. D. Belvin, and they raised six children.
Nettie returned to campus in 1934 for the graduation of her daughter, Janet Belvin Ashe, and then again in 1965 for that of her granddaughter, Rebecca Hobgood Felton.
"…just 60 years after I did," ends Nettie's story. "…I do wish [Dr. McIver] could have lived to see his little girls' school become the great University it is now."
It was a university Nettie knew would always be great — and one that now holds her memory in its heart.
"My family is living proof of Dr. McIver's adage, 'Educate a man and you educate an individual; educate a woman and you educate a family'," says Dr. Rebecca Felton '65, '83 PhD. "Without my grandmother, my family wouldn't be what it is. I wouldn't be who I am."
Rebecca shared her grandmother's love of public education and children, graduating with a bachelor's degree in elementary education. She dedicated herself to teaching and advocating for students with learning disabilities, evolving from educator to educational leader. She was a clinician and co-principal investigator for the Bowman Gray School of Medicine NICHD studies in dyslexia, as well as an educational consultant for teacher training and assessment with the North Carolina State Improvement Project, the National Science Foundation, and Yale University.
In gratitude to her grandmother and for the foundational education she received, Rebecca and her husband, the late Elbert P. Felton, established the Nettie Beverly Belvin '05 Endowed Scholarship for Students in the School of Education. Based on merit and need, the scholarship supports undergraduate or graduate students enrolled in any degree program in the School of Education. Five students have thus far been bolstered during their preparations to become educators.
More than 100 years ago, Nettie Beverly Belvin spread her love for public education with her family, around the state, and across the nation. Now, thanks to her granddaughter, Nettie's spirit lives on in other UNCG students, steering them toward their own adventures in public education.