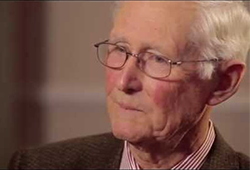 The Faye Young Eury and Lynn W. Eury Endowed Scholarship Fund
One of the sincerest hopes of many parents is for their children to have opportunities they never had. Lynn and Faye Eury consider themselves such parents. The North Carolina natives learned the importance of encouraging young adults to better themselves, and now they provide scholarship support for undergraduate and graduate students studying in UNCG's Joseph M. Bryan School of Business and Economics.
Faye Eury was the oldest of four children when her family lived in rural Catawba County. As was common for 1940s farming families, she and her siblings worked the fields and performed other farm work when not in school. Her mother, Alma Huffman Young, instilled in her children high moral standards, religious character and the need for quality education. Hoping they could have better opportunities, Alma worked in a hosiery mill to fund her children's university education. With her mother's emotional and financial support, Faye was the first in her family to attend the Woman's College of the University of North Carolina (now UNCG), completing the commercial business program in 1956.
Lynn Eury's parents had similar hopes. Neither had finished high school, and they pushed Lynn to realize the importance of education, achieve what they couldn't and take greater responsibility in the community. After graduating high school, Lynn enrolled in NC State. With the financial support of his parents, a grant from the university and money he saved through various jobs, Lynn graduated in 1959 with a degree in engineering. He went to work at Carolina Power & Light Company where, after 35 years of dedicated service, he retired from the position of executive vice president.
Lynn and Faye passed values learned from their parents on to their three daughters, but they hope they can help more young men and women benefit from quality education. In creating the Faye Young Eury and Lynn W. Eury Endowed Scholarship Fund, they ensure bright scholars in the Bryan School complete their studies with less concern about the financial burden of college.
Thanks to the Eurys' support, students like Amela Pozderac '08 and Solomon Valentine '11 dedicated some of their time to international travel and study. Other students, like Lindsay Vail '13 and Therome Primus '16, focused on leadership opportunities. They graduated with the honor of receiving the UNCG Leadership Challenge Bronze Medallion and the Bryan Achievement and Leadership Award, respectively.
Lynn and Faye are happy so many students have graduated, and will graduate, from UNCG with their help. "We appreciate the sacrifices others have made for us, and the difference those sacrifices made in our lives," Lynn says. "Now we're making a commitment to help other young men and women improve their lives."
As these students venture into the world, they won't forget the Eurys' commitment to them. And if they happen to become parents themselves, they may share the hope of their children having greater success than even they had.