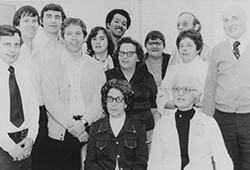 Helen Barton Mathematics Scholarship
"I enjoyed my years at Woman's College/UNCG and have benefited greatly from the education I received there," reads a letter by Lillian Boney, a 1946 graduate, who went on to a thirty-three year career at the National Advisory Committee for Aeronautics' (NACA) and later the National Aeronautics and Space Administration's (NASA) Langley Research Station.
Lillian was from Rocky Mount, North Carolina, and attended Peace College before she came to Woman's College as a mathematics major. While Lillian considered herself only "average" as a college math student, she was later known at NACA and NASA as an efficient programmer and received high praise from her colleagues, both programmers and engineers.
The oldest civilian aeronautical research center, Langley was the birthplace of American flight technology, and where researchers carried out decades of aerodynamic experiments to improve aircraft performance. Lillian worked there as a mathematician, or "human computer," running calculations, plotting data and working with engineers on wind tunnel tests.
Her education at Woman's College had prepared her to co-author some of the most important engineering papers of her day, the products of which led to man's exploration of space. NASA Langley research contributed to the Mercury, Gemini, Apollo and Skylab programs and was essential to the success of the United States' mission to land men on the moon before the end of the 1960s.
After her retirement in 1980, Lillian continued to meet with her NASA colleagues over lunch every other month, and even drove from North Carolina to Virginia to see them. In 2007, she attended the NACA reunion at the Langley Research Center.
While Lillian kept up with her NACA and NASA family, she also did so with her Woman's College and UNCG family. Looking back on her time at Woman's College, even in 2015, nearly 70 years after her graduation, Lillian remembered the instruction of her professors, Cordelia Strong and Dr. Helen Barton, head of the Mathematics department.
Lillian was a contributor to UNCG for more than 50 years and, in the last years of her life, as a member of the Unbroken Band Society, made a generous gift to the Helen Barton Mathematics Scholarship fund to honor the Woman's College professor who propelled her toward an outstanding career at the cutting edge of aeronautical invention and advancement.